For more than a decade now China has been a Mecca for experienced airline captains wishing to top up their retirement fund or move to a more manageable commuting roster. Attracting pilots from established airlines such as Qantas, British Airways and Emirates with lucrative contracts, there are no signs of a slowdown in China's requirement for experienced foreign aircrew.
Unable to train enough pilots domestically to fulfill the massive number required to crew the almost 1000 aircraft currently on order, Chinese carriers are competing amongst themselves to secure the services of foreign aircrew and in doing so pushing salaries well over the $300K USD mark.
And it's not just the powerhouse carriers such as China Southern, China Eastern and Air China leading the way, big salaries are on offer from the domestic carriers such as Lucky Air, Spring Air and Chengdu Airlines eager to attract aircrew into the lesser known, but equally modern smaller cities away from the coast.
Hainan Airlines, based in Haikou on the island of Hainan, with over 175 aircraft in its fleet and more than 30 aircraft on order, is one such airline luring pilots with flexible rostering patterns and above average remumeration. The airline, which serves nearly 500 domestic and international routes and flies to more than 90 cities is struggling to crew it's current fleet and see's foreign crew as a necessity for it's expansion plans.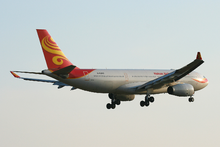 Another airline finding itself looking abroad for it's crewing survival is Shanghai based, low cost carrier Spring Air with an order book of over 61 Airbus A320 variants, it is currently offering expatriate packages of over USD250K.
But there's no getting away from the attraction of working for Asia's largest carrier, China Southern Airlines. Based in Guangzhou, Southern China. Their four year contracts with variants to suit most commuters, extensive network and enviable safety record is favoured by western pilots.
Claire Delaney, former head of Aircrew Recruitment for Cathay Pacific and now heading up Australian based recruitment agency Flightdeck Crewing, believes that China's requirement for highly qualified, experienced pilots will continue for the next decade, she adds, "China Southern alone, has over 200 aircraft being delivered in the coming years, this creates excellent opportunities for expatriate pilots looking for either a new challenge or for a chance to mover closer to home.   In addition, China Eastern has over 220 aircraft on order, and Air China has almost 180 aircraft on their way, leading to intense competition to secure the services of qualified Airline Pilots in the region".
Conditions for expatriate pilots have continued to improve with foreign bases, free return tickets, reverse rosters and flexible scheduling practices such as 20 days on 10 days off. For many expatriate pilots, the ability to move closer to home combined with the security of 4 year contracts is tempting.
Pilots considering a career in China should plan accordingly. Despite the urgent requirement for crew, the selection process can take up to twelve months due to scheduling of CAAC simulator checks, medicals and ATPL exams.
For more information contact Claire at claire@flightdeckcrewing.com